THE BEST VALUE BY FAR!
Four Seasons is the only company that offers CONSERVAGLASS™ NXT. Others may say they can provide a high performance glass, but it will be at a significant up-charge, increased lead time and will not offer all the benefits CONSERVAGLASS™ NXT offers.
Our competitors claim you don't need to be concerned about these things because they can't match the performance of CONSERVAGLASS™ NXT.
Four Seasons CONSERVAGLASS™ NXT is not only amazing in its performance, but is warranted to continue to perform well for a lifetime. CONSERVAGLASS™ NXT is covered against any manufacturer's defect for the lifetime of your Four Seasons product. This warranty covers not only the original purchaser, but is even transferable to future homeowners, ensuring your Four Seasons Sunroom maintains it's value, even if you move.
To ensure your enjoyment of your home every day, Four Seasons developed unique glass recipes for the unique demands of our sunrooms. Four Seasons' CONSERVAGLASS™ NXT keeps you warmer in winter and cooler in summer. Only Four Seasons offers CONSERVAGLASS™ NXT.
Four Seasons' CONSERVAGLASS™ NXT was designed specifically for the extreme demands of a room built entirely of glass utilizing the most advanced glazing technology available. The real story behind CONSERVAGLASS™ NXT, and what makes it so special, is its exclusive, patented, multi-coating.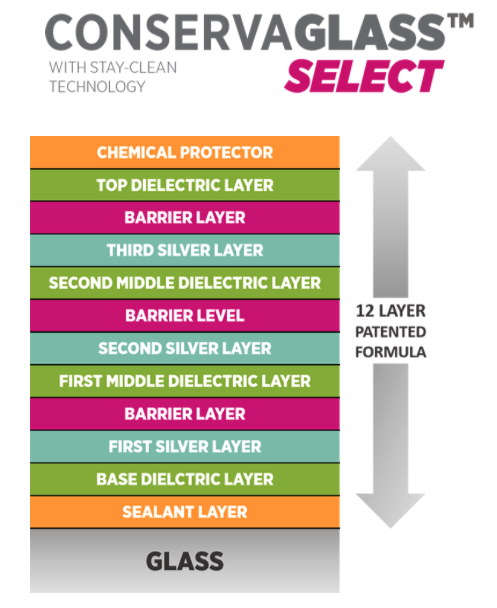 This extraordinary process uses multiple microscopic coatings of exotic metals and compounds to let beneficial natural light into the room, while blocking the sun's oppressive solar energy and reducing the effects of damaging UV rays. This helps to keep you cooler in the summer. This remarkable glass also reflects interior heat back into your rooms, helping to keep you warmer in winter as well.
Four Seasons' CONSERVAGLASS™ NXT goes through an extra manufacturing process to permanently bond an exterior finish to the glass to make it stay cleaner longer than competitors' glazing. Called Stay-Clean Technology, this exterior finish makes the glass both super smooth (hydrophilic) to reduce the accumulation of dust and dirt on the glass, at the same time as it harnesses the power of the sun to help loosen dirt so water can rinse it away.
Stay-Clean Technology uses the sun's UV rays to keep CONSERVAGLASS™ NXT cleaner longer and reduce your maintenance chores. It's the newest reason under the sun why Four Seasons CONSERVAGLASS™ NXT is better than any other sunroom glazing.