PATIO COVERS & CAR PORTS
Whether you need shade from the sun, a place to enjoy parties or protection for your vehicle, Four Seasons offers a complete line of "low to no" maintenance Covers that will take care of your outdoor needs.
Our Patio Covers and Carports are attractive, versatile and durable. Our product offering consists of Single Skin Flat, w-Pan, Tri-Pans, Cedar Embossed Insulated Roof Panel, and our unrivaled Elitewood Ultra Driftwood Embossed Insulated Roof Panels. Our exclusive Driftwood embossed panels will not chalk or fade, and have a longer warranty than any other "similar" product on the market.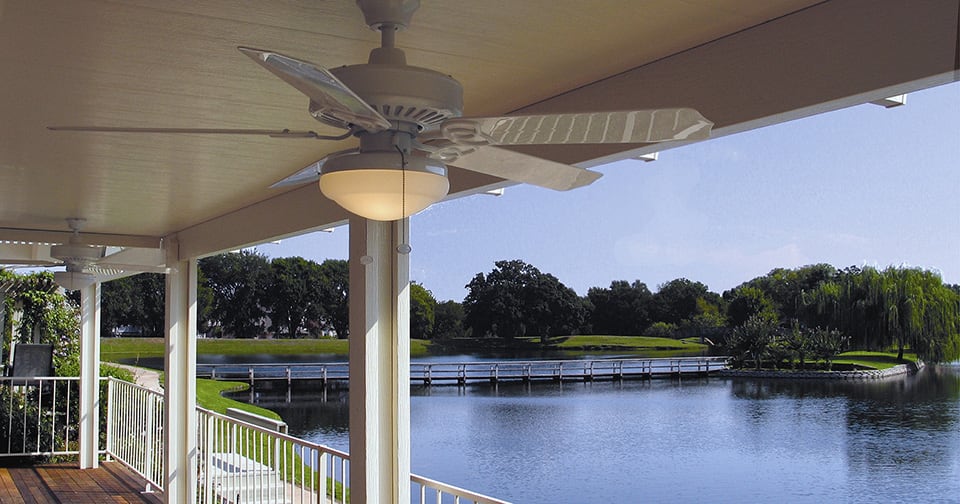 FOUR SEASONS SUNROOMS GIVES YOU VARIETY TO FIT YOUR STYLE
Your Four Seasons Sunrooms professional will talk you through all of your selections. Choose from multiple patio cover options that match your personal style and budget. Our product offerings include:
• Single Skin Flat
• W-Pan
• Tri-Pans
• Cedar Embossed Insulated Roof Panel
• EliteWood™ Ultra Driftwood Embossed Insulated Roof Panels
Additionally, our exclusive driftwood embossed panels will not chalk or fade and have a longer warranty than any other similar product on the market.

TAKE ADVANTAGE OF THREE DISTINCT STYLES
INSULATED LAMINATED ROOF PANELS
These are made with an expanded polystyrene foam core. EPS is a high-performance insulation specified by architects nationwide for many of today's energy-efficient homes. Using these insulated panels with our patio components will create a strong, durable patio cover or carport.
ROLL FORMED PATIO COVERS
Also known as flat pan or w-pan, this style provides economical, solid shade that protects you and your home from inclement weather and harmful UV rays, in addition to providing the necessary shade to relax.
DELUXE LATTICE WRAP
With this option, we combine a solid insulated laminated roof panel with embossed aluminum rafters to give enhanced dimension and style to your new patio cover.
THE BENEFITS OF CHOOSING FOUR SEASONS SUNROOMS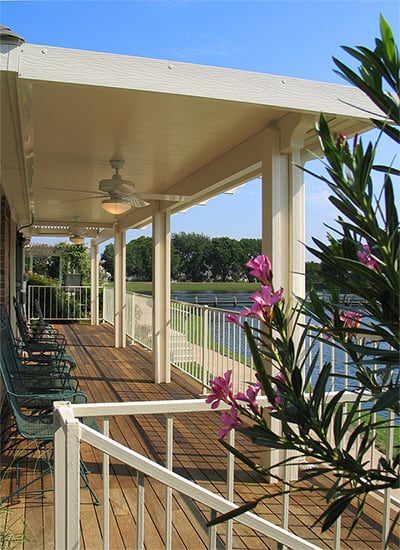 Patio installation may come a dime a dozen these days, but the Four Seasons Sunrooms promise is unparalleled. First and foremost, we stand behind our products with a transferrable lifetime warranty. Additionally, the patio cover roofs and all of the patio rooms we install are:
ATTRACTIVE
We take pride in offering highly functional products that last, without sacrificing aesthetics. Your personal style matters to us, which is why we strive to match your addition to your existing structure. You will fall in love with your home all over again after you see the finished result.
VERSATILE
You have a variety of easily upgraded options that enable you to transform your outdoor living spaces when you are ready. The patio covers from Four Seasons have the ability to be specifically designed to accommodate ceiling fans and light fixtures, giving your outdoor space extra amenities.
DURABLE
Four Seasons insulated laminated roof panels snap together tightly, forming a strong, structurally sound roof as well as a weatherproof barrier protecting your patio or vehicle from the elements. Our covers are made from high-quality structural aluminum. Maintenance free, our covers are crafted to never rust, warp, crack, rot or become infested with insects. Our factory-finished aluminum components retain the original color, gloss, and texture longer and better than patio products made of alternate materials.