Economical Screen Enclosures
ECONOMICAL SCREEN ENCLOSURES FROM FOUR SEASONS
Let Four Seasons turn your existing porch, deck, or Four Seasons patio cover into an economical screen enclosure and increase the amount of time that you can enjoy your outdoor space. A new outdoor addition not only extends how much livable space there is in your home, but it also provides you with an indoor-outdoor room that can be enjoyed all year long. From summer barbecues to winter celebrations and everything in between, this investment will pay for itself by how often you and your family make use of it.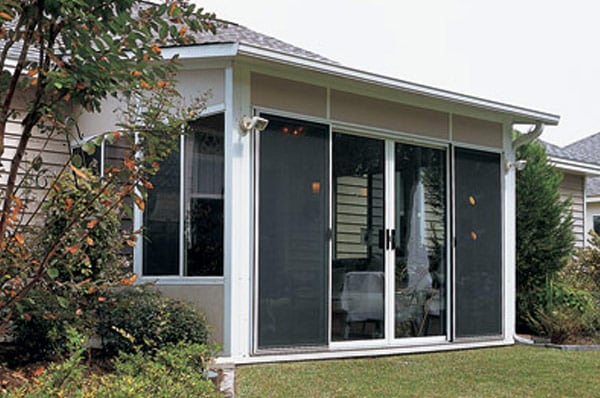 Four Seasons Enclosures Offer Many Benefits and Advantages
Screening in your patio, porch, or Four Seasons patio cover provides you with cost-effective protection from insects as well as solar heat, glare, and light rains, so you can enjoy the outdoors even when it is drizzling, when the sun is too hot, or when the bugs want to join the party too. With the protection of a Four Seasons screen enclosure, you can dine in al fresco splendor without fear that insects or a summer shower will spoil your mood.
The innovative economical screen room and patio enclosures from Four Seasons provide protection from:

• Annoying insects
• Harsh solar heat
• UV radiation
• Rain showers

Features of our economical screen enclosures include:
• Extruded aluminum structure for strength and durability
• Durable fiberglass screening
• Low-maintenance paint finish that will not peel or crack
• Materials that are resistant to rot
• Insect resistance
• A lifetime warranty

Available options for our economical screen enclosures include:
• Skylights for added light without heat• Roof fan beam (to support a locally sourced ceiling fan)
• OSB/shingled roof
Enhance Your Property with a New Enclosure
With a new economical patio screen room, or other type of enclosed patio design from Four Seasons, you can enhance your property by creating an additional space in which to spend time on your property. You can host parties, enjoy meals outside, or just relax and unwind in this space that lets you enjoy the beauty of the outdoors without the inconveniences of insects, fluctuating temperatures, or precipitation.