NATURAL WOOD PERGOLAS
We are currently carrying Natural Wood Pergolas on a limited basis only. Please check with your local dealer for availability.
Let Four Seasons transform your yard and landscape with one of our beautiful, finely crafted warm wood or maintenance-free aluminum pergolas.
Four Seasons pergolas can add a whole new architectural element to your garden as an inviting gateway, an open cover for your patio or deck or an attractive structure upon which beautiful flowering vines can be trained to grow and provide an ever-changing focal point to your outdoor landscape.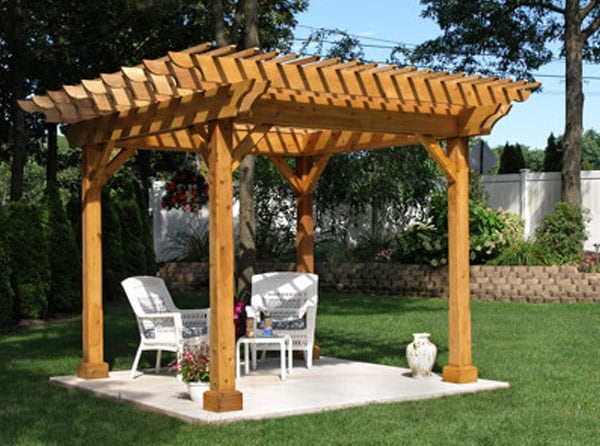 Crafted from beautiful Western Red Cedar harvested in Canada, Four Seasons traditional wood pergolas provide elegant dappled shade to your deck, patio or landscape. With posts engineered and laminated to minimize the natural movement of wood products, these graceful structures can be stained or painted to match your décor of your choice left to weather to a charming silver gray reminiscent of fine Craftsman architecture.
The wood for Four Seasons Cedar Pergolas come from well-managed forests in British Columbia. Suppliers of Western Red Cedar are committed to high environmental standards, upholding harvesting practices that are recognized as legal and sustainable. Three certification bodies, the CSA, SFI, and FSC, utilize third-party audits to measure the company's planning, practices, systems and performance against predetermined standards to ensure that the company's forest management promotes sustainability.
Four Seasons Pergolas can add a new element of style, elegance and character to your home and gardens while providing you with an area of dappled shade in which to relax and enjoy your yard and landscape. Available in free-standing and attached designs, your new pergola will set your home apart from the neighbors by bringing classical charm to your life and your lifestyle.