STRAIGHT EAVE SUN & STARS
Tradition And Style In One
Enjoy the view of your new home addition from both inside and out. Designed with the same straight eaves as most residential architecture, our System 4 Straight Eave looks like a part of your home, not just an add-on. Slim, strong aluminum profiles in a traditional design makes this room the choice for homeowners who desire clean, straight line and maintenance-free finishes.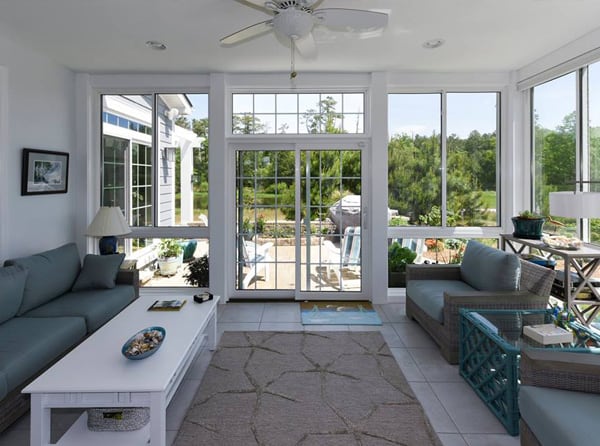 Solid Roof
Graceful design that watches the bottom line — no wonder this model has been a Four Seasons Sunrooms favorite for almost three decades! With sunrooms or patio rooms you can enjoy natural light, top-notch energy efficiency, superior security, and a look that blends beautifully with your home's existing lines.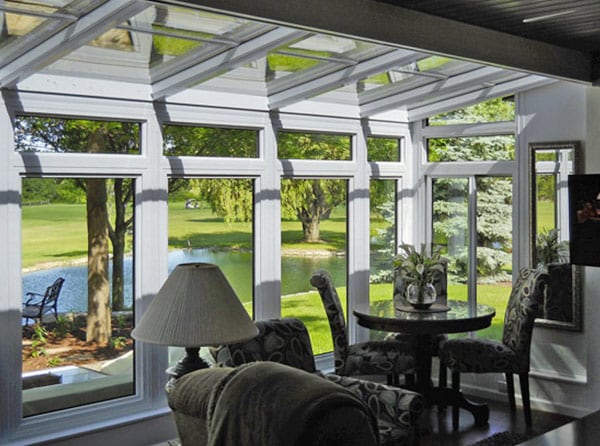 Glass Roof
Designed to please the eye and ease the soul. Natural light and simple symmetry create a peaceful space that welcomes you to relax. Add the benefits of superior energy efficiency and a low-maintenance exterior.
Features

Solid Roof

Glass Roof

Energy Efficient Construction
Insulated roof system

Yes

Yes

Thermally broken frames and interlocking

Yes

Yes

High performance CONSERVAGLASS™ NXT

Yes

Yes

Window Choices and Features
Single or dual sliding windows

Yes

Yes

Full view fixed windows

Yes

Yes

Removable screens

Yes

Yes

Double lock security

Yes

Yes

Door Choices and Features
Full view French doors

Yes

Yes

Full view single-swing doors

Yes

Yes

Quad doors with screens

Yes

Yes

Sliding doors with screens

Yes

Multi-lock hardware system (swing doors)

Yes

Yes

Color Choices (baked enamel finish)
Bronze

Yes

Yes

Sandtone

Yes

Yes

White

Yes

Yes

Other Options
Aluminum gutters

Yes

Yes

Skylights

Yes

Yes

Concealed electrical raceways

Yes

CONSERVADECK™

Yes

Optional Features
Glass etching on doors and transoms

Yes

Yes

Grilles between glass on doors and windows

Yes

Yes