WOOD INTERIOR SUN & STARS GLASS STRAIGHT
Contemporary Timber Frame
Engineered Timbers with real oak or pine give this contemporary styled home addition a warm, natural ambiance. The expansive glass roof of our Style 9 Home Addition captured the sun and stars for your enjoyment. This room is the epitome of the contemporary glass home addition. A maintenance-free exterior aluminum glazing system isolates the glass from structural and beautiful interior laminated wood beams for years of carefree living. Create an inviting setting that lends a special feeling for you to enjoy nature's bounty during all four seasons.
Traditional Timber Frame
Elegance and grace enhance tradition. The strength of engineered Northern White Pine beams gives this traditionally styled home addition a comforting solid feel. The soaring roof of our System 8 Sun and Stars Room brings the heavens to you here on Earth. This is the ultimate in traditional glass home additions and will become the focal point to any home. Enjoy year-round dining, entertaining or just relaxing with the family in the special setting created by this elegant home addition.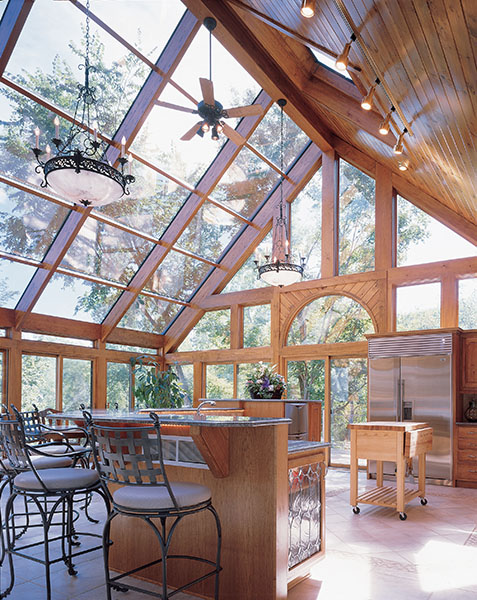 Features
Pre-finished aluminum exterior
Northern White Pine laminated interior beams
Energy Efficient Construction
Thermally broken frames

Yes

High performance CONSERVAGLASS™ NXT

Yes

Window Choices and Features
Casement windows (System 8 only)

Yes

Awning windows (System 9 only)

Yes

Window grilles

Yes

Dual lever locks

Yes

Door Choices and Features
Full view French doors

Yes

Full view single-swing doors

Yes

Sliding doors with screens

Yes

High strength dead bolt security

Yes

LeLock™ Plus 7 Point locking system

Yes

Polished brass hardware

Yes

Color Choices (baked enamel finish)
Bronze

Yes

White

Yes

Other Options
Extruded gutters

Yes

CONSERVADECK™

Yes

Optional Features
Glass etching on doors and transoms

Yes