Why Choose Four Seasons
Simply the Right Choice For Your Sunrooms and Home Products
39% of homeowners are currently working on or are planning an outdoor project and half of homeowners would rather renovate than move. With so many choices out there, it's often difficult to know who to turn to when you are considering updating your home.
Many people will tell you that a home remodeling project is one of the most stressful things that they will ever do. What will it cost? What will it look like? Who will build it? How many people do I really need to deal with?
Is there a better way?
For over forty years, Four Seasons has been a leader in manufacturing innovative, quality outdoor living solutions. Your home is your place to rest and relax, spend time with the people you love, build your future and it's very likely the largest single investment you've ever made. So when the time comes to improve, you want a name you can trust.
Four Seasons has a network of trained and certified designers and installers and their process is 'soup-to-nuts.' Permits, codes, installation and a commitment to delivering customer satisfaction. So when you're looking to update your home, think Four Seasons, they've "Got You Covered."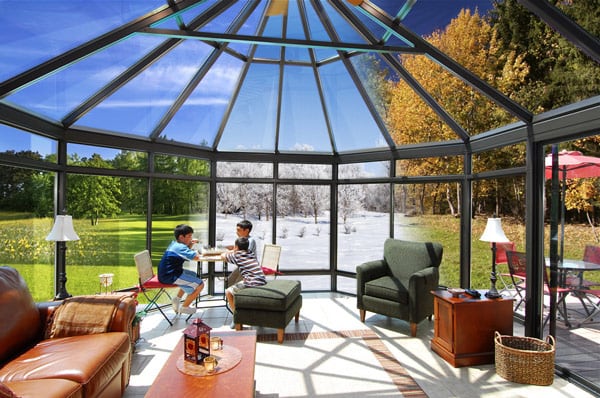 Why You Should Choose Four Seasons
Number One in North America.*
Four Seasons is the premier manufacturer and builder of year-round glass sunrooms, solariums and conservatories in North America. We set the standard for our industry.** Four Seasons has taken our decades of experience in sunrooms and brought it to the vinyl replacement window, screen enclosure, pergolas and patio cover markets.

In business for over 35 years.
Four Seasons Sunrooms has been in business for over 35 years. We are tried and true, highly recommended, utterly dependable, and internationally recognized as the industry leader in both products and customer service.

Additions that meet or exceed building codes.
Four Seasons designs all of our sunrooms, solariums, patio room additions, windows and doors, pergolas, patio covers and all our products to the highest possible standards. Our products can be custom designed to meet or surpass all architectural and building codes in you specific area.

Global strength, local expertise.
Four Seasons offers "the best of both worlds": industry-leading corporate strength and resources, combined with highly trained local independently owned and operated franchisees and dealers, who know what your needs are, and offer personalized attention and unparalleled local service.

Glass that works - 365 days a year.
Four Seasons Sunrooms' industry-leading patented glass technology helps to provide all-day, all-night comfort, 365 days a year. It's the best glass in the business. How does it work? Click here for a demonstration of this amazing glass used in all of our sunrooms, solariums and conservatories. Click here to read how we utilize CONSERVAGLASS™ NXT in our energy-saving windows and doors.

Best warranty in the industry.
Four Seasons provides the best warranty in the industry on all of our home products.

A perfect fit for every homeowner.
Four Seasons has exactly what you're looking for. We make year-round glass sunrooms, solariums, patio and deck enclosures in four unique architectural styles (straight eave, curved eave, cathedral ceiling, and conservatory), and endless combinations of sizes, finishes and options - more than any competitor. We also manufacture energy-saving windows and doors in limitless sizes and styles, pergolas in warm wood and maintenance-free aluminum and economical patio covers and screen rooms for every style and budget. If our inventory doesn't include exactly what you need, we're happy to custom design and build a glass room just for you.

Our customers love us.
Perhaps most important of all, Four Seasons customers love their sunrooms, solariums and conservatory additions. Click here to read their reviews.